Nicodemus History
Nicodemus, Kansas
The only remaining western town established by African Americans during the Reconstruction Period following the Civil War.
Aerial view of the Nicodemus town site, taken in 1953. Prints and Photographs Division, Library of Congress.
Early area homestead, circa 1885
School District No. 1, Nicodemus School. Nicodemus National Historic Site
Graham County Historical Society
Leaving for Kansas, circa 1870s.
November 12, 1996, Nicodemus became a National Historical site.
Historically, Kansas entered the Union as a Free State and the Nicodemus Town Company advertised the area as one in which African Americans could establish their own self-government.
The town of Nicodemus was "founded" in September of 1877. "Exodusters," as these newly free people came to be known, were discouraged from settling in Missouri, Mississippi, and Louisiana and encouraged to move on to Kansas.
By 1877 several hundred Black families made homes from "dugouts," basically holes in the ground scattered long Solomon River.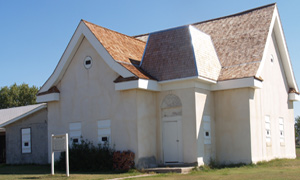 The Old First Baptist Church, Nicodemus, Kansas.
NPS: Photo
A sod structure was partially built over a dugout, just north of the existing stucco and limestone structure and the First Baptist Church of Nicodemus was organized in the first stage of its development.
However, many disillusioned by the lack of vegetation and starkness of the land moved back to the green fields of Kentucky. Later, in the late 1880s, the town of Nicodemus, did enjoy a flourishing period and had several newspapers to boast about, as well as several stores, churches, a literary society, an ice cream parlor, and a school.
People of Nicodemus tried to get the railroads to establish lines near it in order for the town to be able to continue to grow, but this did not happen and the town dwindled in the following years.
Last modified: Sep 28, 2018